Narada "Rada" Mealey
June 26, 1985 – November 2, 2017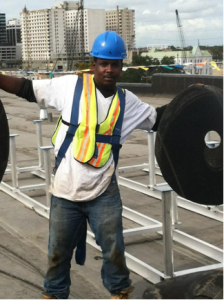 Narada Mealey was born on June 26, 1985 in Marrero, Louisiana. He was named after his father but to those who knew and loved him, he was known as "Rada." He was the first child of five siblings who were close to each other and grew up on the West Bank in Marrero. Narada was raised mostly by his grandmother and his aunt, Sanchez Allen. As a teen he lived with Sanchez and her husband, a preacher, who helped provide Narada with a strong religious foundation. They looked after him and his siblings, stepping in to help out because his mother struggled with addiction and his father was out of the picture. Though he didn't have much contact with his father, he remained close to his father's family.
He was a quiet and shy kid who had to get a feel for people before he would open up. Once comfortable, he was a jokester known for his pranks and fun-loving energy. Narada had an ongoing clash with his aunt's step father, and loved to play tricks on him whenever he had the chance. Growing up, Narada's younger brother had epilepsy and would sometimes fake seizures to prank his big brother. One-time Narada thought his brother was faking a seizure, so he proceeded to crack jokes instead of helping him out. When Narada realized what was going on, he did his best to help. Helping and protecting were in his nature. His Aunt Sanchez thought of him as her protector.
Narada took care of his aunt when she got sick and he treated her kids like they were his own siblings, always looking out for them.
Sanchez's husband helped to raise Narada, as a result he looked up to his uncle as a father figure. Throughout his childhood, he loved to play basketball with his uncle and his uncle's brothers, who were also big influences in his life. Basketball, girls, and playing games were how he preferred to occupy his time as a teenager. Narada struggled with school, and stopped going after he finished at Adam's Middle School in Metairie. Looking back, Sanchez believes Narada had dyslexia and was ashamed of his struggles with learning, which pushed him to leave school at an early age. Sanchez said that if she could see him again, she would apologize to him for not pushing him harder to help achieve his full potential.
Narada met Bridget Armstrong, the mother of his first child, through family friends. When he was 19 years-old they had their first child, a baby boy. Their son was born with health problems, which reminded Narada of his younger brother. After having his own children, Narada was finally able to begin building a relationship with his mother, who had by then overcome her struggle with addiction. From the beginning Narada tried really hard to be a good father, he wanted to make up for the father that he'd never had. About two years after the birth of his first child, Narada's younger brother, who was only 18 at the time, lost his lifelong battle with epilepsy. As a result, Narada grew distant from his first son, avoiding the painful reminder of his younger brother.
Narada went on to have a total of three children with Bridget Armstrong, and later had another child with Natasha Tolbert. Sanchez's hope is that Narada's kids will know that he was really trying to be a better man and to be a better father to them. Narada was a hard worker, he worked as a roofer before working as a dishwasher at Le Bayou restaurant. Before he passed away, he was trying hard to secure a position working for the Parish. The day that he was arrested, he had just taken a test required for the position, moving one step closer to his goal.
On October 27, 2017, Narada Mealey was arrested in Orleans Parish and booked into OPSO custody due to a warrant resulting from a misdemeanor probation violation out of Jefferson Parish. In a devastating sequence of events, Narada passed away less than a week later.
His family was devastated, including Sanchez who always saw him as her first child, he was even there when she went into labor with her first daughter. Sanchez and the rest of Narada's family continue to struggle with the harsh reality of not being able to see Narada again, and of knowing that he will not be able to realize his full potential. Sanchez described him as, "a young man with a lot of hope for what he could become, but because of his surroundings he didn't have dreams."
To cope with losing Narada she tries to hold onto his memory and to honor it, but sometimes she finds it easier to imagine that he's somewhere else, in some other city and going about his life. Sanchez has a simple message: Narada was sick when he went into jail but he left their custody dead. She wanted people to know that he was somebody, he was a son, a nephew, and a father, and that he deserved to be treated as such.
Author: Zora Djenohan
Sources:
Complaint of Petitioner at 6, Tolbert v. Gusman, No. 18-8359, (E.D. La. Sep. 4, 2018).