Christian David Freeman
August 6, 1984 – June 25, 2020
On August 6th, 1984, in Metairie, Louisiana, Mrs. Ginger Adams Freeman and Mr. David Ray Freeman welcomed a bouncing baby boy named Christian David Freeman. He was born on a slightly rainy but warm day. ​He was her second oldest child, having an older brother by the name of Jesse Paul Freeman, and later a younger sister by the name of Chantelle Elizabeth Freeman. ​Christian reportedly attended school within the Jefferson Parish School District and presumably attended Rudolph Mata School and later on to East Jefferson High School.
Christian did not have a typical upbringing, unlike other children. For the majority of Christian's life, his father battled with drug addiction. ​However, he was a determined, strong, sweet, and compassionate kid. He enjoyed playing sports, especially baseball, and was known to be very protective of his mother. He was so smart; his brother remembers a time when Christian was three years old, he was placed in "timeout." But somehow he snuck out of his room and wandered to his neighbor's home where he told them that his mother asked for them to watch him for the day while she went grocery shopping. His mother noticed his absence and later found him watching TV with them. By the time Christian was at the age of twenty, his beloved mother died due to breast cancer. Tragedy followed. On October 1st, 2015, when Christian was thirty, he found his father dead in his home. 
Growing up, his family described Christian as "rambunctious," and never was one to turn down a dare. The family believes this spirit is shared with his four-year old son, Ryder. Who, like Christian, has blonde hair and striking blue eyes. Christian was also described as having a compassionate spirit and was thrilled to be a father to his beautiful son, "loving him beyond words."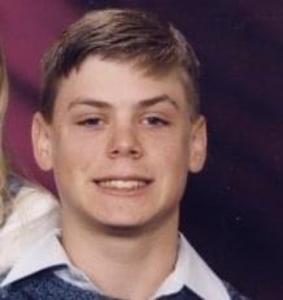 In his early twenties, Christian briefly lived in South Florida in Miramar. A suburb right outside of Miami. He also briefly lived in Defuniak Springs, Florida, near Tallahassee. His grandmother, Mrs. Rhudean C. Freeman said he was a "troubled soul," however she loved him very much. The family also mentioned that Christian had troubles within his life at times, but nonetheless, as they so eloquently wrote in his obituary, "we believe that God does not despise the broken and nor should we. Rather, we are to imitate the One who came to seek and to save the lost as we all once were, no matter what type of bonds enslave and cripple them." Christian was nothing shy of a loving father that adored his son, making him no different from the next man.
Christian was a very quirky yet intelligent man. He was an avid fan of playing XBox games, particularly Halo 3. He also had a knack for customizing and installing computer hard drives. Christian could solve a Rubix cube in less than five minutes. He enjoyed playing classical music on the piano. He enjoyed a vast genre of music, ranging from Keith Urban to Nicki Minaj. Aside from music, Christian loved customizing his two vehicles, particularly a Buick LaSabre and a Ford F-150. He was a playful and friendly person as an adult. He often liked to hang out with friends, share funny memes, and had an affinity for Elmo, the fictional character on Sesame Street.
Upon the death of his father on October 1st, 2015, it took a toll on him. However, the birth of his son began to heal his heart. Ironically, his son was born roughly a month after Christian's father passed. The mother of his son is his former girlfriend, Toria Smith.2​ 0​ Christian was astounded at being a father to his young son. He frequently took videos of them laughing and bonding.
Unfortunately, Christian battled with drug addiction for the majority of his adult life and on December 14th, 2020, Mr. Freeman was arrested. His Uncle Mr. Shannon Freeman stated that he was relieved once he was arrested, believing that it was needed for Christian in order to turn his life around, especially for his young son. He was hopeful and positive during his arrest and focused on bettering himself and returning to his son. However, on June 25th, 2020, Christian suddenly collapsed while in the Orleans Justice Center and was transported to University Hospital where he was pronounced dead, according to the Sheriff's Office. While making funeral arrangements, his uncle found out from the funeral director that Mr. Freeman died from COVID-19. The family raised numerous concerns relating to his death because around the week that Christian died the Orleans Parish Sheriff's Office stated in a press release that there were no known cases of COVID-19 within their facility.
In Mr. Shannon's opinion, the circumstances surrounding Christian's death were not only questionable and unfair but, he believes, that individuals like Christian who are non-violent offenders and battle drug addiction, "shouldn't be given a death sentence for people being accused of a crime to go to jail."
The perspective of Mr. Christian's uncle can speak volumes. It begs the point that the lack of transparency is not an issue that is immune to those on a particular political spectrum, or have certain beliefs. Rather, this is an issue relating to morality and equity. Mr. Shannon's perspective can possibly be a microcosm of the shifting electorate, where growing numbers of White Americans who considered themselves in support of law enforcement, recognize that they too can still be victims of a broken system. Although it may not be strategic and driven on race, the problems and issues that have been raised from Black and Brown inmates are not alien to the issue that plagued the Freeman family, and countless others.
In order to cope with the loss of their beloved and cherished loved one, the family engages with his son. The family fully believes that Ryder is a reincarnation of Christian, sharing that same "rambunctious spirit." Due to the increasing notoriety stemming from Mr. Freeman's death, the family wishes for privacy as they grieve their loss.
Author: Dominic A. Wilson
Sources: