Calvin "Deal" James Thomas, Sr. 
October 21, 1981 – November 15, 2012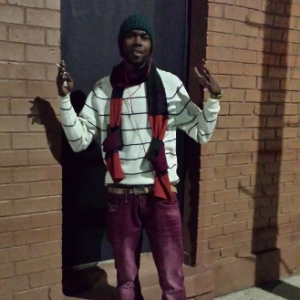 Calvin James Thomas (Deal), Sr. was born October 21, 1981 in New Orleans, Louisiana, to parents, Mona Lisa Deal and Thomas Frank Deal. Calvin grew up with his two older siblings in a tight knit household in the Magnolia Project. Both of Calvin's parents were well known in their community and the Thomas' home always had an open door policy. Calvin's sister, Le'Mona, remembers her brother's friends coming over to get advice from their father, ranging anywhere between girl problems to money problems. She also remembers their mother always having an additional table setting ready for any of their friends to join the family for dinner. Calvin and his siblings also grew up with a large extended family, who would gather as often as possible to celebrate holidays and other family milestones. Though Calvin had an abundance of familial relationships, he shared a special relationship with his mother. His mother always had a soft spot for him because he was the baby of their family, earning him the well-known title as a "mama's boy". Throughout his childhood, Calvin was surrounded by his close knit family, which developed his notion of being a family man.
Growing up, Calvin always competed with his sister, since they were a year apart in age. Le'Mona reminisced about when she got chicken pox as a young child and Calvin also wanting to get the chicken pox, just so he could be like his sister. As they got older, Calvin and Le'Mona's sibling competition evolved into a close friendship by supporting one another through the trials and tribulations of high school. They were both honor roll students, since their mother would not have it any other way. In addition, both Le'Mona and Calvin were members of their school band, in which Calvin played the snare drum. Le'Mona remembers Calvin always being the jokester and his loud obnoxious laugh that still resonates in her ears. Calvin graduated from John McDonogh Senior High School and went on to pursue carpentry. After completing his training in carpentry, Calvin started his own maintenance and carpentry business. He enjoyed working with his hands, through which he found pride in building and restoring furniture. Before his death, Calvin also worked as a construction worker for Carpenters Local Union 1846.
Calvin and his older brother, Frank, were both diagnosed with sickle cell anemia. The disease became more prevalent as Calvin got older and it was not till high school that he began experiencing the effects of it. Le'Mona recalls that Calvin would have crises, during which he suffered excruciating pain throughout his entire body and would require hospitalization. While there is no cure for the disease, Calvin tried to take care of himself as best as he could with appropriate vitamins and medications, in order to not let it affect his quality of life. He continued to lead his life with his contagious smile and token sunglasses.
In 2011, Calvin met LaTasha Rogers, whom he lovingly referred to as, "bunny," and their initial friendship quickly turned into a romantic relationship. Calvin was in love with LaTasha and everybody knew it. LaTasha gave birth to their son, Calvin James Thomas, Jr., on October 2, 2012. Staying true to his strong family background, Calvin ensured he provided for both his son, CJ, and his daughter from a previous relationship, ThaiLi Thomas. He enjoyed spending time with his children, as well as his nieces and took any opportunity he could get to take them around New Orleans. Some of Calvin's favorite activities with his children and nieces was going to the Audubon Zoo and walking through the French Market. Every year for Christmas, he would assure that everyone had a present to open on Christmas morning, including his sister and brother-in-law. To date, Le'Mona treasures a photo frame that Calvin gave her one year for Christmas, during which she promised him that she would hang it once she was able to buy a home.
The last time Calvin saw his family was on October 21, 2015, when he was able to celebrate his birthday with his sister and his son, CJ, who was three years old at the time. While Calvin's death is another example of the inadequacies of the incarceration system, Le'Mona strives to keep her brother's memory alive from when he was a free person. Le'Mona wants Calvin's children, ThaiLi and CJ, to remember their father for his contagious smile and the joy he spread in the world to those around him. Calvin was deeply loved by his family and friends and his death was an extremely tragic loss, however we should all learn a valuable lesson from the life he lead, of always holding your family close to your heart.
Author: Gautami Bamba 
Sources:
Telephonic Interview with Le'Mona Deal West, New Orleans, LA (October 21, 2020). 

The New Orleans Advocate Obituaries, Calvin James "Deal" Thomas Sr.,

https://obits.nola.com/obituaries/nola/obituary.aspx?n=calvin-james-thomas-deal&pid=176620342&fhid=10333

.

Rogers Dep. 118, March 8, 2018.

Christine Walton, Armed robbery suspect sees photo on TV and surrenders, Fox 8, (Sept. 25, 2015, 2:03 AM),

https://www.fox8live.com/story/30112656/armed-robbery-suspect-sees-photo-on-tv-and-surrenders/

.

Emily Lane, Inmate who died in OPP complained staff 'not taking his sickness seriously,' sister says, The Times- Picayune, (Nov. 19, 2015, 5:30 PM), https://www.nola.com/news/crime_police/article_9c2820c2-e5fb-5929-83bd- 4177a79c66f8.html#incart_river_index.

Emily Lane, New Orleans coroner: OPP inmate's death consistent with history of sickle cell disease, The Times- Picayune (Nov. 19, 2015, 12:44 AM), https://www.nola.com/news/crime_police/article_56e734a0-31fd-571c-a12c- fd214de52dab.html#incart_river_home.