Teacher's Guide for Incarceration Deaths Seminar (2022)
Welcome to the Teacher's Guide for our Incarceration Law and Policy course, which collects records of deaths behind bars, memorializes lives lost, and publishes facility-specific memoranda that provide an overview of a local jail or prison! This guide contains all the instructions and project materials needed to start teaching this course! Materials include assignments with grading rubrics, reading assignments, instructional memos for teachers and students, and slides/materials for units on trauma and interviews.
Teacher's Guide for Incarceration Deaths (Sept. 2022)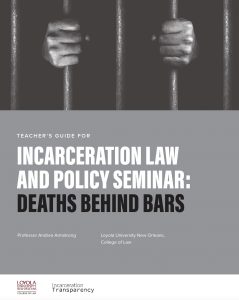 Working with family members of decedents, people formerly incarcerated, and local leaders, we developed this course for law students. In Louisiana, we did not have a comprehensive list of people who had died behind bars. The only data available was usually outdated and aggregated, such that we couldn't tell which facilities in Louisiana had higher rates of deaths than others. We also couldn't analyze this information to determine whether there were disparities by certain demographics. At the individual level, some families had never received official information about the cause (or circumstances) of death for their loved one. Based on these conversations, we created a class that both teaches students important legal skills, while also producing information that is missing from criminal justice reform efforts. This class produces annual data and analysis on deaths behind bars, memorials for people who died behind bars, and informational overviews of specific facilities in Louisiana.
For instructors: If you would like to receive a free print copy of the Teacher's Guide, please provide your contact information here.